On this symposium
This is the symposium meant for the intensive symposium week on general relativity held on the 4th week of the YITP long-term workshop "Gravity and Cosmology 2018" (GC 2018). This is also meant for the Yukawa International Seminar for the fiscal year 2017 (YKIS 2018a).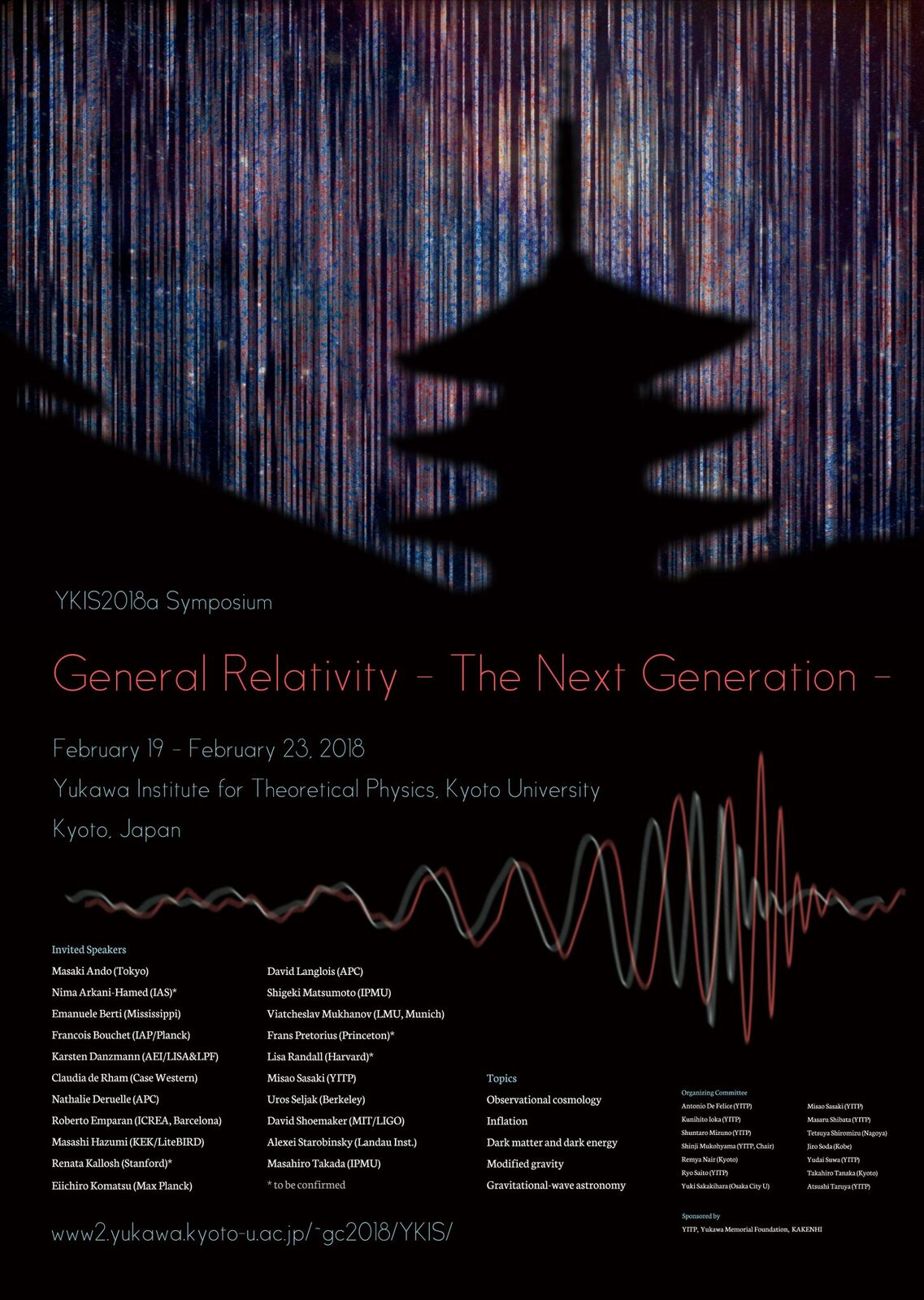 Symposium Poster (produced by Tsutomu Kobayashi (Rikkyo))
JPEG
Schedule & Venue
Start: February 19, 2018 at 9:45, Close: February 23, 2018 at 17:15
Panasonic Auditorium, Yukawa Hall, Yukawa Institute for Theoretical Physics, Kyoto University, Kyoto, Japan

Banquet

: Feb. 21, 19:00 at Kitayama Monolith. Please check here for more details.
Subjects
Observational cosmology
Inflation
Dark matter and dark energy
Modified gravity
Gravitational-wave astronomy
Invited Speakers
Masaki Ando (Tokyo)
Nima Arkani-Hamed (IAS)*
Emanuele Berti (Mississippi)
Francois Bouchet (IAP/Planck)
Karsten Danzmann (AEI/LISA&LPF)
Claudia de Rham (Imperial)
Nathalie Deruelle (APC)
Roberto Emparan (ICREA, Barcelona)
Masashi Hazumi (KEK/LiteBIRD)
Renata Kallosh (Stanford)
Eiichiro Komatsu (Max Planck)
David Langlois (APC)
Shigeki Matsumoto (IPMU)
Viatcheslav Mukhanov (LMU, Munich)
Frans Pretorius (Princeton)
Lisa Randall (Harvard)
Misao Sasaki (YITP)
Uros Seljak (Berkeley)
David Shoemaker (MIT/LIGO)
Alexei Starobinsky (Landau Inst.)
Masahiro Takada (IPMU)
* to be confirmed
Organizing Committee
Antonio De Felice (YITP), Kunihito Ioka (YITP), Shuntaro Mizuno (YITP), Shinji Mukohyama (YITP, Chair), Remya Nair (Kyoto), Ryo Saito (Yamaguchi), Yuki Sakakihara (Osaka City U), Misao Sasaki (YITP), Masaru Shibata (YITP), Tetsuya Shiromizu (Nagoya), Jiro Soda (Kobe), Yudai Suwa (YITP), Takahiro Tanaka (Kyoto), Atsushi Taruya (YITP)
Sponsors
YITP, Yukawa Memorial Foundation
Supported by
JSPS KAKENHI


No. JP17H06359 "New developments of gravity theory research in gravitational wave physics / astronomy"
No. JP16K05348 "Massive gravity: theory and phenomenology"
No. JP15K21733 "Accelerating Universe"
No. JP15H05888 "Inflation"

Media Partnerships