KYOTO SYMPOSIUM 4
KYOTO SYMPOSIUM 4
Date :June 4, 2017, Sunday 14:00-17:30 (Doors open 13:30)
Location:Divinity Hall Chapel in Doshisha University
Admission Free, No Reservation Necessary.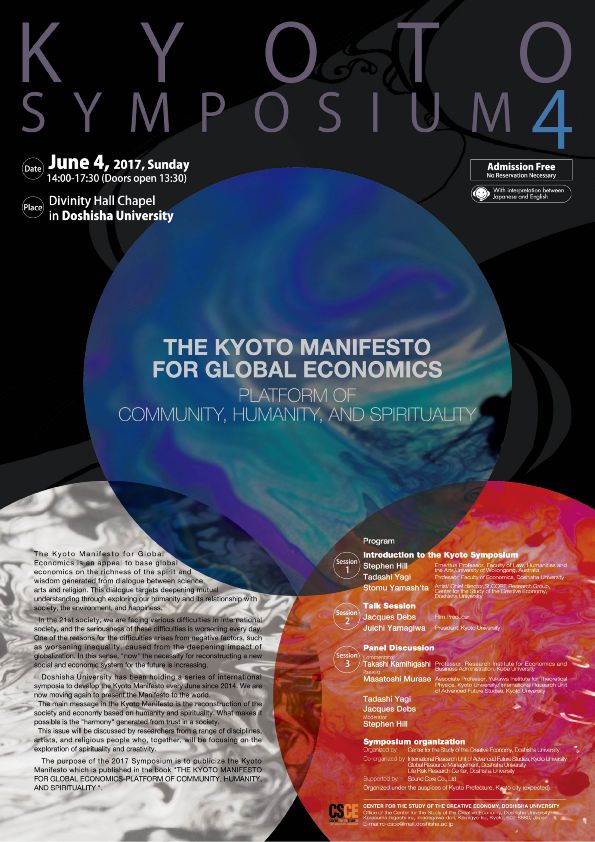 KYOTO SYMPOSIUM 4: THE KYOTO MANIFESTO FOR GLOBAL ECONOMICS—PLATFORM OF COMMUNITY, HUMANITY, AND SPIRITUALITY
The Kyoto Manifesto for Global Economics is an appeal to base global economics on the richness of the spirit and wisdom generated from dialogue between science, arts and religion. This dialogue targets deepening mutual understanding through exploring our humanity and its relationship with society, the environment, and happiness.
In the 21st society, we are facing various difficulties in international society, and the seriousness of these difficulties is worsening every day. One of the reasons for the difficulties arises from negative factors, such as worsening inequality, caused from the deepening impact of globalization. In this sense, "now" the necessity for reconstructing a new social and economic system for the future is increasing.
Doshisha University has been holding a series of international symposia to develop the Kyoto Manifesto every June since 2014. We are now moving again to present the Manifesto to the world.
The main message in the Kyoto Manifesto is the reconstruction of the society and economy based on humanity and spirituality. What makes it possible is the "harmony" generated from trust in a society.
This issue will be discussed by researchers from a range of disciplines, artists, and religious people who, together, will be focusing on the exploration of spirituality and creativity.
The purpose of the 2017 Symposium is to publicize the Kyoto Manifesto which is published in the book "THE KYOTO MANIFESTO FOR GLOBAL ECONOMICS -PLATFORM OF COMMUNITY, HUMANITY, AND SPIRITUALITY ".
Program
Session 1  Introduction to the Kyoto Symposium
14:00-14:10
Tadashi Yagi (Professor, Center for the Study of the Creative Economy, Doshisha University)
14:10- 14:40
Stephen Hill (Emeritus Professor, Faculty of Law, Humanities and the Arts, University of Wollongong, Australia)
14:40-14:55
Stomu Yamash'ta, (Artist/Chief director, St. CORE Research Group, Center for the Study of the Creative Economy, Doshisha University)
10 minutes intermission
Session 2 Invited Speech and Talk Session
15:05-15:45
Jacques Debs (Producer, Director,Screenwriter)
"Society based on Humanity and Spirituality"
15:45-16:15
Talk session on "Society based on Humanity and Spirituality":
by Jacques Debs and Juichi Yamagiwa (President, Kyoto University)
10 minutes intermission
Session 3 Panel Discussion
16:25- 16:50 (15min.)
Comments by Takashi Kamihigashi (Professor, Research
Institute for Economics and Business Administration, Kobe University)
16:50- 17:30 (40min.)
Panel Discussion
Moderator
-Stephen Hill
Panelists
-Masatoshi Murase (Associate Professor, Yukawa Institute for Theoretical Physics, Kyoto University)
-Tadashi Yagi
-Jacques Debs
-Juichi Yamagiwa
Symposium organization
・Organized by Center for the Study of the Creative Economy, Doshisha University
・Co-organized by
   International Research Unit of Advanced Future Studies, Kyoto University
   Global Resource Management, Doshisha University
   Life Risk Research Center, Doshisha University
・Supported by Sound Core Co., Ltd
・Organized under the auspices of Kyoto Prefecture, Kyoto city (expected)