We aim to elucidate the "extreme universe" from the new perspective that all things are composed of "quantum information", going beyond the conventional understanding of "time, space, and matter" in physics. This "extreme universe" refers to the extreme conditions of the natural world, and includes the following three targets:
(i) quantum theory of Black holes (i.e. the limit of space),
(ii) quantum theory of Cosmology (i.e. the limit of time),
(iii) Dynamics of quantum matter (i.e. the limit of matter).
To solve these problems, we need the ultimate understanding of the laws of physics.
The third annual meeting of ExU collaboration@YITP, Sep. 11th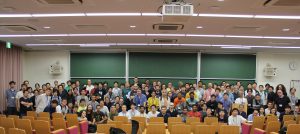 We have opened [a Youtube channel] dedicated to our collaboration activities. The videos we have now include the videos of the colloquia. We expect that more videos will come up in the near future. 
WHAT'S NEW